Creative Director of Native Cinema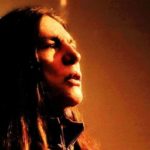 Ricky Lee started his acting career at a early age working on a film with Burt Lancaster and Gene Hackman call the gypsy moths. After college and tour with the US Army. Me joining the first American Indian Theatre Company in the country along with Wes studi Performing with David Carradine and will Sampson in the play Black Elk speaks. After a long run with the Theatre Company he went on tour with a equity play called Mystic Warrior who performed 350 Equity shows across the Midwest. In the late 90s he was a guest artist with the University of New Mexico Theatre Department in the play by Neil flowers Spirit of the Dead which went on to win the regional award for theater in El Paso . And went on to win 9 Kennedy Center Awards for the University of New Mexico. Since then he's had a appearances in many films in New Mexico including Buffalo Girls Wyatt Earp White Sands ridiculous 6 Magnificent Seven.
Currently he is working as a director producer and actor on Independent films along with midnight Shanghai the movie.