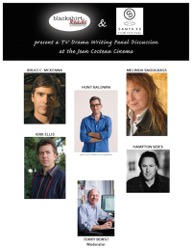 When:
December 5, 2015 @ 2:30 pm – 4:00 pm
2015-12-05T14:30:00-07:00
2015-12-05T16:00:00-07:00
Where:
Jean Cocteau Cinema
418 Montezuma Ave
Santa Fe, NM 87501
USA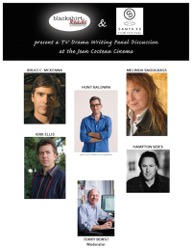 HUNT BALDWIN, KIRK ELLIS, BRUCE MCKENNA, HAMPTON SIDES and MELINDA SNODGRASS FORM TELEVISION DRAMA WRITING PANEL
Let's see – can you get much more writing starpower on one Santa Fe stage?
Emmy award-winners Kirk Ellis and Bruce McKenna
– plus –
LONGMIRE head writer Hunt Baldwin
– plus –
STAR TREK writer Melinda Snodgrass
– plus –
historian, journalist and screenwriting collaborator Hampton Sides
– plus –
SFUAD screenwriting professor Terry Borst moderating the discussion
– equals –
ONE AMAZING PANEL.
BlackShirtReads and the Santa Fe Film Festival are excited to present this Television Drama Writing Panel immediately following the ENCHANTMENT performance at the Jean Cocteau Cinema on December 5.