There is a romantic notion about the act of foraging: One of running freely through the wilderness barefoot in faded jeans, perhaps with a floppy hat, gathering as you go, merrily living off the wild foods of the land. Of course, my version of foraging comes in varying extremes: climbing riparian oak trees with a machete in central valley California to cut down bunches of wild grapes for jam, or licking live lemon ants off a tree in the Amazon jungle.
But regardless of the method, the reality of romantic food gathering notions are dashed in "Now, Forager: A Film About Love and Fungi" showing in a special screening at the Santa Fe Film Festival this year.
If you are also a long-time forager of all things edible in the wild, then this film is for you. It is a quiet contemplation, beautifully rendered, about the obsession with searching for fungi – and one's soul.
The absolute pinnacle of foragers are the mushroomers. It's not a skill taken lightly. For instance, one must go forth and not poison yourself, loved ones, or customers with what you have scrounged (I don't care how wistful you were over "Into the Wild", Christopher McCandless was a dumbass compared to a true honguero). It takes skill. It takes knowledge. It takes negotiating your love life.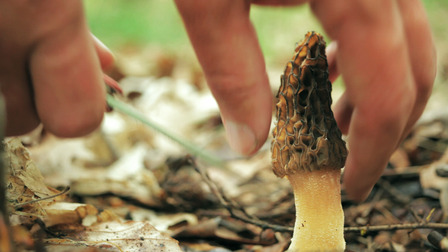 There have been reports about the culinary connection of this film (read them here: http://nowforager.com/press/), and while that is certainly part of the impetus of foraging for Lucien (Jason Cortlund) and Regina (Tiffany Esteb), there is a whole world more to it – and this film – than cooking.
The couple seems completely at odds with each other and their desires throughout the entire film. So, we rely on Lucien to inform the truth of the story through the allegory of fungus: that it is "hard to tell a relationship at a distance. Sometimes, you never know." The heartbeat of the film is Lucien's obsession, his rhythmic chanting of his encyclopedic knowledge of genus, species, and fatal or culinary outcomes of each cap. One of my favorite parts was his seeing 'shrooms in everything — fire hydrants and garbage popped out of the background — when he was at his lowest and still searching for his place in life and love. Nature is clearly where we want to be in this film, not cities, not with people, and as it becomes his truth – where Lucien winds up.
My other favorite part was Lucien's brush with Russian foragers. Mushrooming is a cutthroat business. Even here in New Mexico in the Jemez Mountains where in a bumper year truckloads of porcini can be found, one must watch for the Russian foragers—who carry rifles, not machetes. I gratefully got a paper sack full of them on one such year, but my friends to this day will not divulge the region where they found them for fear of dangerous competitors.
"Now, Forager" gives a realistic view of the world of fine dinning and who we rely on for little bits of fancy feasting joy. And while it is a far cry from skipping tra-la through the woods or eating ants – it is a lush, frustrating, interesting slice of life that tries to make it on passion alone.
– – – – – – – – – –
SFFF and Coyote Café, present "Now, Forager"
On Wednesday, December 5, 2012 Santa Fe's cineaste's and foodies will come together for a delicious pairing of Film and Fungi!
Film Screening Starting at 5:00 PM followed by Q & A with Filmmaker Jason Cortlund at the New Mexico History Museum, 113 Lincoln Avenue, Santa Fe.
Then at 7:30 PM joins us at: Coyote Café with Chef Eric DiStefano for a 3-course Tasting Menu inspired by the film, "Now, Forager" with Fine Wine and Spirits provided by Domaine Serene, Fiasco Wines and Santa Fe Spirits. Coyote Cafe, 132 W. Water Street, Santa Fe.
GET TICKETS ONLINE
---
Posted by Omar Hamid
---