"Currently, an estimated 7,000 languages are in active use on earth. One language is lost every 14 days." —"The Young Ancestors."
Director Aimėe Barry Broustra's documentary film "The Young Ancestors" illuminates not only the tragic loss of spoken languages, but a way of life and an ancestral connection that makes Native Americans take pride in themselves and their culture.
Language is tied to so much of indigenous dances, songs and prayer. Without the understanding of what's being said at tribal events, the spiritual connection that keeps young people on a good life path is broken.
In 2009, the Indigenous Language Institute created a pilot program for New Mexico Native American teens to learn their native Tewa language. Five teens from Santa Clara and Pojoaque Pueblos participated. This self-motivated educational program helps them remember where they came from, who they are and as one of the students stated,"gets me past all my struggles and stress and just makes me feel good about myself."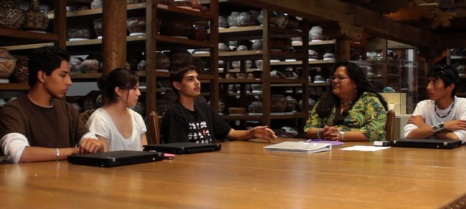 Laura Jagles, a teacher of the Tewa language explains her desire to teach in the program: "I was brought up understanding our language as another entity that is alive. It is a continuous line between me and my ancestors and if I'm maintaining that connection in my own cultural belief system then there's a possibility that the language is still seeking out in its own way, connections with people."
In this well-paced documentary, the viewer finds out what caused languages to die, how it changed the "Young Ancestors's" lives and what their hope is for the future.
"When you take someone's language away," said one student, "when you then ask them to speak in someone else's language, you are taking away their knowledge. When you take away someone's knowledge, you take away their power."
– – – – – – – –
"The Young Ancestors" will screen at 3:25 p.m on Saturday, December 8 as the second film in a double feature at the New Mexico History Museum. A filmmaker's question and answer session will follow.
For more information and complete program and schedule, please visit the Santa Fe Film Festival website. To purchase tickets, visit TicketsSantaFe.org.
---
Posted by Joanna Smith
---