I have to admit: I love indigenous film. I am a total junkie. From "Atanajuat" (Inuit) to "Ten Canoes "(Aboriginal) to "The Weeping Camel "(Mongolian)—I will go out of my way to see and support these films. "Garifuna in Peril" is one of those films that not only is thoroughly indigenous, it rings with a lovely lesson for Westerners.
For those who have seen "Cool Runnings "and thought you saw an indigenous film, high thee to the theater and see this one instead.
The story is anything but simple. It follows two brothers –Ricardo (Ruben Reyes) and Miguel (Julian Castillo) – in a "city mouse/country mouse" comparison of life in rural Honduras and Los Angeles. Ricardo is a Garifuna language teacher living in Los Angeles whose own son doesn't know their native tongue. When Ricardo decides what he really wants to do is build a Garifuna language school in their village back home in Honduras, a very normal concept to all of us Westerners (why not help retain our culture by building a school on family land?), things get complicated. He enlists his brother Miguel, who still lives in the village, to get going on it—materials, whatever is needed. But Miguel is an opportunist.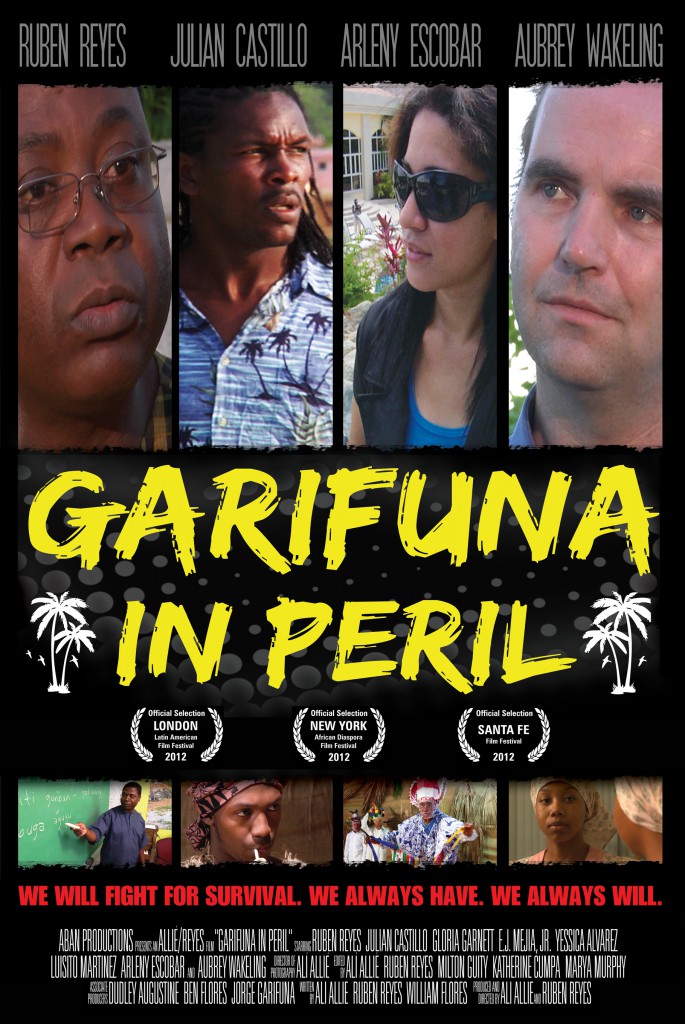 Anyone who has lived in a small community knows a guy like Miguel. He's a good guy, a likeable guy, but he just thinks for himself, not the community, nor his brother in another country when faced with a seemingly bullet-proof business deal—or a pretty girl. Things have a way of taking on lives of their own when big business comes calling. And while both brothers think at first that bringing outside tourism to the village is a good idea because it means more dollars toward building a school, the plan drifts toward betrayal by Miguel and a reaffirmation of what it is to be Garifuna by Ricardo. But Ricardo doesn't come to his realization through some sort of divine Garifuna awakening, no—he pretty much has it roundly pounded into his thick skull by elders.
I lived in Belize in a Creole village for two years while working on my doctorate. During that time I took a weekend in Hopkins, a Garifuna village near Placentia. I loved it, loved the people, loved the food, loved dancing to Punta Rock, and loved the culture. So much so, that when I graduated, I went back to Dangriga and met the famous Garifuna artist Benjamin Nichols who painted me an original one-of-a-kind picture that hangs in my living room today. It's easy to say that I am really proud of the film "Garifuna in Peril" because it feels so familiar and because they did a great job.
Clearly, I'm biased, but it's born of love for cultures out there that are working hard to retain their independent identities in an ever-homogenizing, globalized world. All of us, in all of our respective backgrounds, must work to preserve the diversity that is humanity. And "Garifuna in Peril" gives us the impetus to do just that.
– – – – – – – –
Playing at CCA 8 December @ 2.30 PM
For more information and complete program and schedule, please visit the Santa Fe Film Festival website.
To purchase tickets, visit TicketsSantaFe.org.
---
Scientist. Screenwriter. Comic book shop owner. Occasional gum chewer.
View more posts by Laura K Marsh
---
---