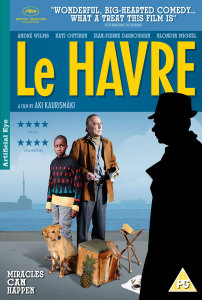 Immigration is a hot button for us here in the US, and films that deal with the topic are as old as "talkies" themselves. But the business of refugees in film is less specific, especially in the US where we prefer to call ours "illegal aliens." But in Europe and elsewhere, refugee films are becoming their own genre.
And amidst this new flood of foreign refugee films strolls in LE HAVRE with as delightful a sense of place as LIFE IS BEAUTIFUL. That is, it takes a serious subject like Gabonese refugees in France, and makes it hopeful.
The Finnish director Aki Kaurismaki, known for sly, deadpan humor, and drab production design, transplanted his trademarks to the small French port town in Normandy to spin his fairytale much in the way Danny Boyle transported us with his SLUMDOG MILLIONAIRE. Both are fairytales rooted in reality in a manner that the Brothers Grimm would approve.
The story follows an old, burned out, author turned shoe-shiner Marcel Marx (whose name is no coincidence) and his decision to help a runaway African refugee boy named Idrissa in the face of his wife's perpetual illness. He has to make sense of these seemingly disparaging parts of his life. A central theme emerges: Can an act of kindness be a cure for a loved one?
As Marcel makes his way through the humorous fibs he must tell to the local constabulary, "I'm the boy's brother. I'm the albino in the family," he must raise 3,000 euros so that Idrissa can be reunited with his mother in London. Throughout, he gains momentum and help from the colorful locals. Concerts are given, food is donated, and hope is restored.
Phil Coldiron for Slant Magazine said, "What can we say about a film that makes a miracle seem like the most common thing in the world? Or, more importantly, what can a miracle that seems like the most common thing in the world say to us? No more or less than this: that there's still a chance. Its view is that of a child who hasn't yet been broken to accept a world of limited possibilities, which is another way of saying that its view is revolutionary. Kaurismäki has fashioned a tale of resistance for the 21st century, one that works both internally and in its childlike commitment to the idea at hand at the expense of any compromise. A conviction that those on the side of justice around the world today would do well to emulate."
This film has seen several prestigious awards, including a fun one for the dog Laika (yet another wink as Kaurismäki's production company is called Sputnik) who received a special Jury Prize from Cannes Palm Dog jury. The film has also been selected as the Finnish entry for the Best Foreign Language Film at the 84th Academy Awards.
Finally, Leslie Felperin wrote in Variety: "…on its own terms, Le Havre is a continual pleasure, seamlessly blending morose and merry notes with a deftness that's up there with Kaurismaki's best comic work."
Any story that gives us hope, joy, and a reason to believe needs to be at the top of everyone's viewing list.
LE HAVRE screens Thursday October 20, 2011, at 7:30pm at thte CCA.
---
Posted by SFFF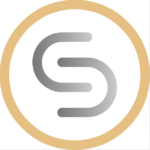 ---