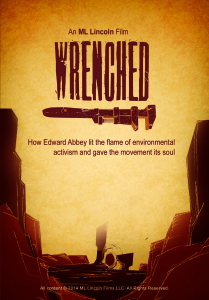 Wrenched
Feature Documentary | 92 mins. | USA
Director: ML Lincoln
According to "Wrenched," in the waning days of World War II young Edward Abbey was drafted and bound for Japan when news came of the Hiroshima bombing. Narrator Jack Loeffler states that this horrific event set off a lifetime of civil disobedience, agitation and environmental activism. While other sources have a different accounting of what sparked Abbey's anarchistic spirit, many consider him the inspiration for generations of ecowarriors.
"Wrenched," from Director ML Lincoln, brings home the point that Abbey believed it was his duty to protect and defend the country against systematic destruction of its natural resources and monuments, particularly in the American Southwest. Over archival footage of power shovel destruction, "The land is too beautiful to be turned into an industrial waste dump," Abbey states; "bulldozers tearing up a hillside are a kind of terrorism."
In a film that points out the conflict between ecology versus moneyed interests — FBI versus agitators — environmentalists, river runners, writers, former park rangers, and well-known actors illuminate the commitment of the violent and the peaceful. Edward Abbey, devastated over the Colorado Plateau's decimation by industrial smoke and foul-smelling industrial waste, grew frustrated over the insensitive response of those who said the pollution: "smelled like money;" he moved away from passive writing to actively destroying property. Said actor and Oscar-winning Producer Robert Redford, who received threats over his views on coal and uranium mining related to Abbey's books and was concerned about what was happening in the American West, "I think 'The Monkey Wrench Gang' signified all those dangers coming and this band of characters was going to do whatever they could to stop it from happening."
While "Wrenched" repeatedly makes its points, the viewer may sometimes wonder: Is the film about Abbey, who felt "a rage about what was going on," or is it about climate activist Tim DeChristopher, who at the young age of eighteen read Abbey's "The Monkey Wrench Gang" and mistook it for a how-to manual on getting himself arrested?
In a recent Santa Fe Film Festival panel discussion, Oscar-winning documentary executive producer Andrea Meditch stated that a well-done documentary should have a good story versus being issue-driven. "Wrenched," for the most part, is a story about Edward Abbey's influence; but it sometimes wanders off course.
On the whole, "Wrenched's" filmmakers take a balanced approach to what some would consider violent or radical civil disobedience. Some will view the film as a "radical blueprint for wrenching the system" while others might see it as a story of a man who deeply cared about Mother Earth. The movie doesn't really ask the moviegoer to take a side, but it does provoke thought and suggest actions to be taken, no matter which side of social justice activities you might stand on. "If people don't know what's been lost, how can you care?"
---
Posted by Joanna Smith
---