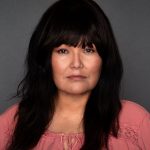 DAWN LURA FERGUSON is a Diné (Navajo) actress living in Albuquerque, New Mexico, and is excited to be part of the Native Cinema (Santa Fe Film Festival 2019) jury. She is currently a member of Two Worlds Native Theatre and Film ensemble. After many years of raising her kids, working in healthcare administration and devoting time to fundraising, volunteering and board
work, she has committed herself to a second "career" in the arts, primarily acting and writing.
As an actress, she has recently worked on a number of film and television projects. Knowing the
need for good and accurate representations of Native life, culture and tradition, she is also
writing short stories primarily focusing on the strength and wisdom of Native Women. She looks
forward to seeing more natives involved in the film industry both above and below the line and
believes that film, as a means of storytelling, is a valuable tool to understanding Native
American culture, beauty and resilience.