Director Farhadi's Rare Humanism in A SEPARATION
Most American families might not be aware that their Iranian counterparts face many of the same problems that they do. But in "A Separation" by director Asghar Farhadi, screening Saturday, October 22 at the Santa Fe Film Festival, a father must make a choice that rings true for all families.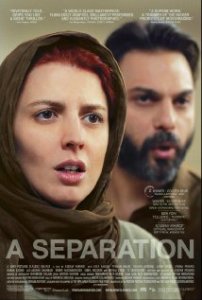 Winner of the Golden Bear top prize for best film and two acting Silver Bear awards for it's cast at the Berlin International Film Festival, "A Separation" is Iran's official entry for the Academy Award's Best Foreign Language Film.
Whether you're an American or Iranian father, consider the scenario: You've just made one of the most difficult decisions of your life, deciding what part of your family stays together. Your wife thinks you're "a good, decent person," but wants a divorce so she can take your daughter and leave the country without you. You both want your daughter with you. However, you're her father and you get custody.
Nadar, the father in "A Separation", must choose between giving his daughter a better life in the United States or keeping her in Iran and taking care of his Alzheimer's suffering father. Not an easy decision. Which choice is right? Can both choices be wrong? What are the consequences?
Emmy Award-winning, writer-producer Kirk Ellis considers Farhadi a remarkable talent: "His uninflected, observant style belies his very skilled sense of story structure (the movie's deceptively simple plot is a model of storytelling economy), and he possesses a rare humanism that allows him and his cast to create fully rounded characters. This is by far the most moving film people will see this year."
Nader hires Razieh, a pregnant caretaker, to help take care of his father. Relief is short-lived when he comes home to find Razieh gone and his father lying on the floor. There's an argument, then a fight, and Razieh falls down the stairs. Nader finds himself accused of beating the caregiver and causing the miscarriage of her unborn child.
Before long, Nader is caught up in a web of lies, betrayal and deceit. In quiet desperation he makes profound mistakes. But, just when you think you know where the story's going, there's a twist.
"A Separation" is neither harrowing thriller nor depressing drama. It is a film of sacrifice, a film every parent should see. Whether American or Iranian, we're not that different from each other. What American family doesn't live with the issues of happiness, sacrifice, duty and fulfillment?
The film begins with an ignition of conflict, yet leaves us with a spark of understanding—the humble beginnings of diplomacy.
"A Separation" will screen at the Santa Film Festival Saturday, October 22, 2011 at 7:45pm, at The Screen on the campus of the Santa Fe University of Art and Design. Go to "A Separation" schedule for more info. Tickets go on sale at TicketsSantaFe.org Thursday, October 13, 2011 or call (505) 988-1234.