I am Bialik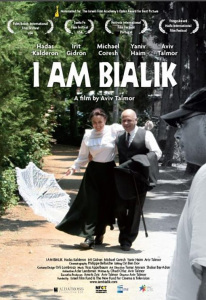 I am Bialik
Narrative Feature | 77 mins. | Israel
Director: Aviv Talmor
This unique Israeli film, which is nominated for The Israeli Film Academy's Ophir Award for Best Picture as well as winning Best Picture at the Haifa Film Festival, could be called a dramedy, docu-fantasy, and of course a mockumentary. Aviv Talmor (the director, star and writer) is left one lira after his father, whom he has never seen, passes away. Why only one lira?
After some research, Aviv feels he is related to the Israeli National Poet Haim Nahman Bialik. Aviv is also a poet and teaches literature. He is overjoyed by this discovery. Suddenly a potential scandal and true comedy is realized as he tries to prove his case of "being somebody."
The film is clever and funny, and makes you feel you have all the answers before it takes some real twists. This is an amusing hour and a half.