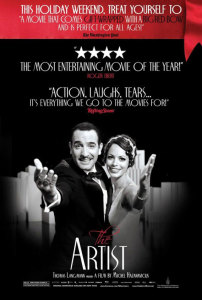 Why make a full-length black-&-white, silent movie these days and what prompts Santa Fe Film Festival to program it on their opening night? Good questions deserve thoughtful answers. I'm going to guess right off that it's not a nostalgia trip.
Writer and director of "The Artist", Michel Hazanavicius, made a name for himself in France with a series of comedies spoofing the spy genre. Whatever gave him the audacity to create his latest one in the style of a century ago I applaud him. It appears to have paid off. The movie gathers praise wherever it plays.
Santa Fe's own multi-Emmy award-winning writer/producer Kirk Ellis says this about "The Artist": "Many people—from Mel Brooks to Pedro Almodovar—have attempted to recreate the silent era (with varying degrees of success), but Michel Hazanavicius' 'The Artist' is the reel deal: a pitch-perfect, honest-to-goodness silent movie that's so precise in its visual language, so accurate in its details, that by the time it's over you'll forget you're watching a 'modern' movie and will swear you've just seen an undiscovered gem from the late-20s MGM vaults."
The plot involves a silent film star whose career is threatened by the arrival of "talking pictures" and an aspiring dancer that revives his hopes only to eventually overshadow him. Hazanavicius's lovely wife Berenicia Bejos is cast opposite handsome leading man Jean Dujardan who received the best actor nod at Cannes for this role. The cast is rounded out with Penelope Ann Miller, Missi Pyle, James Cromwell and John Goodman.
With this movie there is some interesting cross-fertilization going on. From a New Media perspective, making a modern day silent film is an example of an analog form migrating to the digital frontier. That's ass-backwards procreation like a salmon swimming up stream. Are we witnessing a fascinating fluke here or future fashion?
A whole other discussion could be had over whether Mr. Hazanavicius drops dialog from his movie as a reaction to the barrage of glib spin and sound bites that are continuously hurled at us from media maniacs.
Silent films succeed by their ability to tell a story with pictures alone. Hazanavicius starts with a solid script–impeccably structured and ingeniously crafted–that turns the manner in which he tells the story into a dimension of the story itself.  It soaks effortlessly into the imagination this way.
The best movies from the silent era are still as entertaining as when they were first released. In many cases they've actually improved, like fine wine. Esteem for directors like Griffith, Eisenstein, Pabst, Chaplin, Lang, and Murnau has also increased over time.
Silent filmmaking is such good story telling discipline that modern directors should be required to make at least one silent picture. Evidence put forth in the multiplex these days suggests that many of them can't succeed even with the added advantages of language, background tone and human voices.
This story's absence of sound and color achieves what words and added hues never could. Festival Director Diane Schneier Perrin has this to say about it, "A festival favorite, this crowd pleaser is headed for Oscar glory!" Even if "The Artist" succeeded modestly, it would be more interesting to watch than those summer blockbusters already decomposing in the ocean bed of pop culture after barely a splash on the surface.
Expect "The Artist" to reach greater depths because the only thing that could make a filmmaker go for broke like this, besides considerable brass in pocket, is a tremendous passion and devotion to his art form and all its unexplored roots and branches.
The Santa Fe Film Festival sets an intriguing tone for the festival by projecting a feature length black and white silent film for opening night. By the time the credits role I predict we will all agree once again that silence is golden.
"The Artist" is presented at the Santa Fe Film Festival, October 20, 2011 at 7:00 p.m. at The Screen on the campus of the Santa Fe University of Art and Design. Tickets are ON SALE NOW at ticketssantafe.org or call (505) 988-1234.