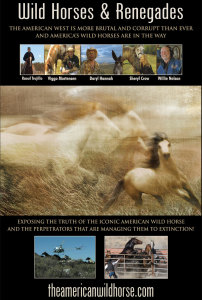 When the average American thinks of a symbol of freedom, they might not think of a wild horse, mane flying, galloping across a wide open plain. However, that iconic symbol is in danger of being forever lost to storytelling legend.
Following recent acclaimed screenings in Washington, DC and the Montana International Wildlife Film Festival, "Wild Horses and Renegades" is on the 2011 Santa Fe Film Festival slate of films as part of the Spotlight on New Mexico Filmmakers.
"Wild Horses & Renegades," directed by former freestyle skiing World Cup competitor James Anaquad Kleinert is at once breathtakingly beautiful yet difficult to watch. Seeing the cruel aerial roundup of the few remaining horses by the U.S. Bureau of Land Management and the conditions the horses live in until they are many times slaughtered for food can be overwhelming to the human spirit.
However, "Wild Horses & Renegades" is not just a documentary that leaves you feeling powerless. Director Kleinert gives the viewer a call to action. From 2 million horses in 1900, their number has dropped to less than 30,000.
Six years in the making, Kleinert began "Wild Horses" as an educational short film used to lobby before the United States Congress. He enlisted celebrities such as singer Cheryl Crow and politicians like former New Mexico governor Bill Richardson to speak out, raise awareness and bring visibility to the project.
Always ready to tackle challenges, Kleinert's passion for "Wild Horses and Renegades" inspired Congressman Raul M. Grijalva to raise the issue in writing before Secretary of the Interior Ken Salazar. The Telluride screening of the film sparked a well-organized group of over 30 volunteers into action.
This film could inspire you. You can help.
WILD HORSES AND RENEGADES will screen at the 12th Annual Santa Fe Film Festival on Saturday, October 22 at 3p.m. The director will be in attendance.