Wednesday February 12th, 6:30 – 8:30 PM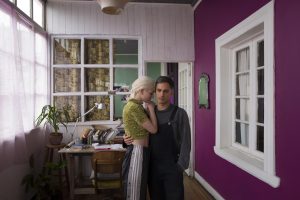 After a shocking incident upends her family life and marriage to a tempestuous choreographer, Ema, a reggaeton dancer, sets out on an odyssey of personal liberation, in this incendiary drama about art, desire, and the modern family from director Pablo Larraín.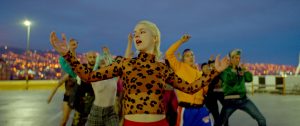 Adoptive parents Ema (Mariana Di Girolamo) and Gastón (Gael García Bernal) are artistic free spirits in an experimental dance troupe whose lives are thrown into chaos when their son Polo is involved in a shockingly violent incident. As her marriage crumbles in the wake of their decision to abandon the child, Ema embarks on an odyssey of liberation and self-discovery as she dances and seduces her way into a daring new life. Centering on the sinuous, electrifying art of reggaeton dance, Ema is an incendiary portrait of a lady on fire, the story of an artistic temperament forced to contend with societal pressure and the urge to conform. From world-class director Pablo Larrain (Jackie, Neruda) comes another psychologically acute exhumation of Latin American life under restriction featuring an unforgettable heroine who is determined to move freely through the world, as she electrifies everyone and everything around her.
---
Born in Santiago in 1976, Pablo Larrain is one of Chile's greatest movie directors as well as a major producer (through his Fabula company).
Not for the weak-hearted, his films are straightforward, generally aggressive and interspersed with violence. They paint a hard-hitting portrait of his country, Chile, notably in a trilogy covering fifteen years of national history from 1973 (the last days of Salvador Allende's presidency in POST MORTEM (2010)) to 1978 (the height of General Pinochet's reign of terror in TONY MANERO (2008)) to 1988 (the last days of Pinochet in NO (2012)). NO was Chile's official selection for the 2016 Academy Award for Best Foreign Language Film. Another characteristic of Larrain's cinema is the unusual perspective with which he chooses to approach his topics.
As a vehicle for attacking Pinochet, the writer-director presents us with a strange love story; narrates the misdeeds of a petty thief imitating John Travolta and portrays an advertising executive creating a campaign to defeat the dictator. FUGA (2006), his first effort, was about a composer going mad while EL CLUB (2015) takes place in a beach house where priests who have «sinned» are sidelined. EL CLUB was nominated for several awards, including the Golden Globes as Best Foreign Film and won the Silver Bear for Best Director at the Berlin International Film Festival. His most recent releases, NERUDA and JACKIE (both 2016) also enjoyed great international success, including nominations for The Academy Awards, the Golden Globe and the SAG Awards for Jackie.