Sunday, February 16th at 1:30 – 3:30 PM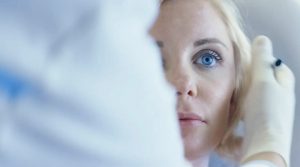 Videos of cosmetic procedures are common online marketing tools and frequently posted on social media. What none of the videos provide is any emotional context for the people (mostly women) getting the treatments. Whether these women are empowered or controlled with regard to their image is open to interpretation but, in the film, I want the viewer to experience emotional context as they sit beside a woman actually undergoing the procedure.
Caroline Williams is a veteran television writer, producer and creator who has written on such shows as "The Office", "Modern Family", "BoJack Horseman" and others, including, most recently, "Arrested Development" and "Maniac" for Netflix. She was born in Atlanta, Georgia and grew up in Portland, Oregon and Southern California. Caroline has a BA in Theatre from USC and an MFA in film from UCLA where she won the George Burns and Gracie Allen Fellowship in comedy and the Hunter/Zakin Chair in screenwriting. Her first play was produced at the Humana Festival of New American Plays and her first pilot, "Miss/Guided", aired for one season on ABC starring Judy Greer and Chris Parnell. She is currently setting up her feature directorial debut and lives in Los Angeles with her husband, fellow filmmaker Drew Goddard, and their three children.