418 MONTEZUMA AVE, SANTA FE NM 87501
Sunday February 16th, 6:30 – 8:30 PM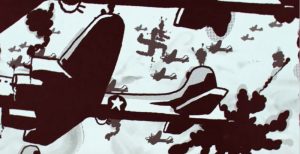 "A powerful, inventive and important animated adaptation of a 95-year-old WWII veteran's poem about his wartime experiences." Ramin Zahed, Editor in Chief, Animation Magazine
Best Animated Film — Big Apple Film Festival, New York City
Best Short Film, Chicago International Shorts Film Festival
Best Short Documentary — Studio City Intl Film Festival
"Minor Accident of War" is based on a true story written and narrated by the man who lived it — Edward Field, 95 yr old WWll veteran.
In 1945, at 20 years old, Field was the navigator in the 8th Air Force during the war. On his 3rd mission over Germany, his plane lost all four engines after being hit by flak and crash landed in the North Sea. Hanging on to one of the two rafts in the freezing cold water, a decision was made that to this day has affected Field.
Field is a significant voice in LGBT literature and the literary world at large. He was recently inducted into the NY Veterans Hall of Fame and honored by SAGEvets, the largest organization dedicated to improving the lives of elderly LGBT veterans.
Our production team consists of filmmakers in Poland and the U.S.