Thursday, February 13th at 5:30 – 7:30 PM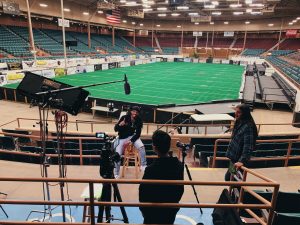 PegaWhale is proud to present a 57-minute full feature documentary pilot introducing transformational stories that has premiered to rave reviews in Albuquerque, Chicago, Austin, and San Diego. Through the craft of intimate storytelling and filmmaking, we have unearthed narratives that explore the rich diversity and resilience of people. Themes of cultural identity, inclusion, adoption, women empowerment, addiction and recovery, the power of sports in community, and overcoming individual, insurmountable odds to become both leader and role model emerged powerfully in this initial segment.
Linking these themes in our pilot is a central narrative focusing on the Duke City Gladiators back to back Championship Indoor Football team and its core leaders. These include:
• A female owner of a professional sports team in a male dominated industry, who persevered through family tragedy to find purpose in life;
• The first Native American head coach to win aback to back professional football championships and the special role New Mexico plays in his identity and legacy;
• The Mayor of Albuquerque and his close relationship with the team as both community leader and
one-time player for the Gladiators;
• The reigning league offensive player of the year whose physical stature is the only thing keeping him from being a star in the NFL;
• The team Chaplain overcoming a tragic car accident and resulting opioid addiction to become the spiritual anchor for young men wanting to keep their dream alive of playing on Sundays;
• A Santero, veteran, cancer survivor, and addict in recovery from Sawmill, New Mexico who has woven his way as a healer into the fabric of the New Mexico community by distilling the truth of the past and hope for the future through his art;
• And the filmmaker, a multi-generational New Mexican, returning to the state to help tell these interwoven stories, finding himself transformed by the experience and embracing a new, and newly healed, relationship with his ancestral home.
With New Mexico's unique energy and history being the common ground beneath these inspiring stories, we describe a field of being where sudden change meets opportunity, where the personal becomes universal, enabling all people to advance. When we uplift ourselves, we can uplift another, and in turn a community changes, empowering the impossible to become possible. We may get sick alone, but we heal together.