Thursday, February 13th at 5:30 – 7:30 PM
Despite the odds, Tanya Benter dreams of playing Major League Baseball. Her brother Brian has helped her become one of her high school's best players. Now she faces the inevitable. Male teammates are increasingly bigger, faster, and stronger. In frustration at herself and the chauvinism of rivals, she throws a mistake pitch and is hit in the head by a line drive.
Dazed, woozy, and on the ground, Tanya looks up to see a young woman in a baggy uniform from a bygone era reach out a hand. Tanya blinks and the woman is gone, replaced by the coach.
After the game, Tanya has a discouraging conversation with her coach. She realizes that dreams of hitting the big time are foolish. Tanya decides to quit, and lashes out at her brother, her biggest supporter.
That evening, as she secretly and desperately searches the internet for ideas about how to compete with the boys, she is visited by Jackie Mitchell, the mysterious young woman from earlier, who at age seventeen struck out Babe Ruth and Lou Gehrig in 1931. Electrified by Jackie's true story, Tanya peppers Brian with ideas for a new way forward.
---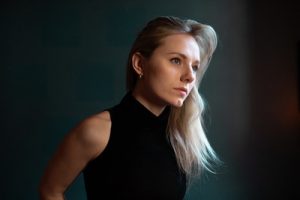 ---
Seri DeYoung is a director and actress in Los Angeles. Seri is often seen on both sides of camera, she is currently cast in recurring roles on Freeform's Good Trouble and S.W.A.T on CBS. The films she has directed have been screened at festivals domestically and abroad, winning "best screenplay" for her film In Touch and "best short" and "audience award" for Still Life, which received distribution with ShortsTV.