Judge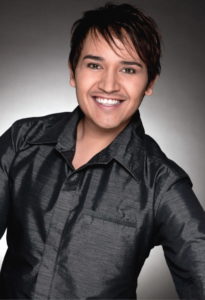 ---
A native of Los Alamos and resident of Santa Fe, Lucas CorVatta has spent the past decade broadening the limits of his enthusiasm and skill. At times a comedian, actor, writer, and inventor, he finds success in each with his compassion and relatability.
These qualities are apparent in Lucas' many contributions. He has authored columns in the Medical Marijuana Journal and Pride & Equality Magazine. His invention of the patent-pending Wiggat – a ventilated hat disguised as a wig – intends to overcome health risks inherent in the wearing of wigs. He considers the advocacy of suicide awareness, especially in the LGBT community, to be one of his greater passions.
Raised on a small farm in northern New Mexico, Lucas' conservative upbringing did not anticipate a career in flamboyant comedy. But a life affirming encounter with standup encouraged him to begin performing in Albuquerque eight years ago. Since then, he has performed on the Las Vegas Strip, pitched pilots to NBC, acted in films, and co-hosted the television series Duke City Comedy League.
In 2014, he performed at the Gay Olympics in Cleveland. A millennial comedy titled You Owe Me and a courtroom game show titled You be the Judge!, both starring Lucas, are currently in development. He has the honor of hosting the Trés Chic annual hair competition in Albuquerque and many panels and events at comic-cons across the state. More recently, he moderated an event featuring Cassandra Peterson, popularly known as Elvira.
As a queer person, Lucas has leveraged his opportunities to act as a role model for the marginalized and underrepresented. Considering standup his primary vocation, Lucas continues to perform at events across the country.