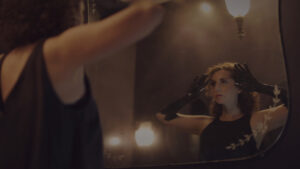 Alone in a beautiful house, a 70's style dream woman grapples with inner emotions using paint as a highly stylized metaphor for journaling and rewriting the truth.c
Director Biography – 
Jackie Pardue Scripps
Jackie, a San Antonio, Texas native, is a filmmaker and photographer based both in Austin, Texas and New Mexico. Jackie has a passion for beautiful imagery and honest connection. Inclusiveness, diversity, and creativity are core principles of her work.
Jackie's films have been official selections of the Austin Spotlight Film Festival, Sacramento Underground Film and Arts Festival, and Reykjavik Visions Film Festival. Her work has also been featured by Alamo Drafthouse, 4 x 5 Photo Fest, Vogue Italia, and various spots online.
Jackie earned an MA in International Studies from Texas State University, along with a BA in Anthropology and BA in History. Currently she is completing the Digital Video Certificate Program at Austin School of Film.
Jackie is a wife, mother of two, and owner of three cats and two dogs. She loves cold brew, Texas Public Radio, and great cinematography.
Project Links