An encounter with a lone stranger takes sister-group Lindy Vision on a fantastical journey.
—
"Adult Children Part II" is a companion piece to Lindy Vision's 2019 EP, "Adult Children Part I", and continues the band's exploration of life as adult children of alcoholics. Inspired by Dr. Janet Woititz' book, "Adult Children of Alcoholics", Lindy Vision has crafted two strikingly honest records that serve as pillars of female empowerment and acceptance. This film is a visual reflection of this journey.
Director Biography – 
Rebeca Durán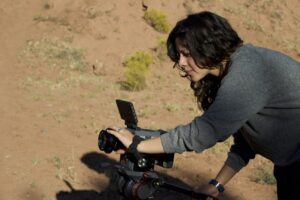 Rebeca Durán is a New Mexico-based Latina director and cinematographer from El Paso, Texas. She has been an IATSE Local 600 member since 2016 and has worked on many productions as a Camera Operator and FAA-licensed UAS pilot. She is a Dean's List graduate from New York University – Tisch School of the Arts where she received her B.F.A in Film+Television in 2014. Rebeca is passionate about visual storytelling and is actively pursuing her directing and cinematography goals.