Margaret is a frustrated twelve-year-old who's run away to her Aunt Alma's mountain cabin to escape her parents' constant arguing. When she arrives, her caring aunt helps Margaret realize that things are not always what they seem. Together the two unravel the mystery behind an occurrence that haunts their past and is as heartbreaking to Alma as it is to Margaret. Based on best-selling author Bruce Coville's popular YA short story, The Thing in Auntie Alma's Pond.
Director Biography – 
Roger Lay, Jr.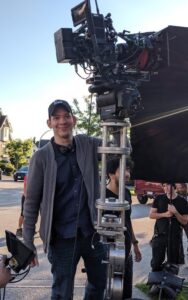 Roger is a founding partner at Lay-Carnagey Entertainment, a media production company that creates innovative content for film, television, streaming platforms, home video, and themed entertainment attractions across the globe.
His film producing credits include HBO/ThinkFilm's 95 Miles to Go starring Ray Romano, eOne's award-winning sci-fi feature Chrysalis — based on the short story by internationally-acclaimed author Ray Bradbury, Universal Pictures' Aliens Ate My Homework (based on Simon & Schuster's best-selling children's book series) and it's upcoming sequel Aliens Stole My Body.
He recently directed the large format 3D ride film at the heart of Legendary Pictures' groundbreaking Pacific Rim: Shatterdome Strike theme park attraction as well as the pulse-pounding 3D ride film for Trans Studio Bali's Road Rage: Wasteland Escape attraction. Roger also produced and directed The Twilight Zone 60th: Remembering Rod Serling, which celebrates 6 decades of the landmark television series and explores the life and legacy of its creator. This CBS special presentation premiered in theaters nationwide on November 14, 2019 via Fathom Events and was released on home video in February 2020 by CBS Home Entertainment.
Roger is also the Saturn Award-winning producer/director of multiple other specials for CBS including Reunification – 25 Years After Star Trek: The Next Generation, and the Star Trek 50th Anniversary projects — Star Trek: Inside the Roddenberry Vault and Star Trek: The Journey to the Silver Screen. He is a member of the Producer's Guild of Americ