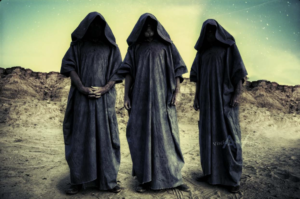 Lost in an unknown and timeless land, IDIR finds himself with KASHOU a woman who claims to be his mother, crossing through a village that lives by absurd and maniacal rules. Not remembering his past Idir convinces Kashou to settle there and start a new life, but to do so he must get an -ASIV- which is to marry from the village. Beda, a woman who shares secrets with Tsicar (the village leader) marries Idir and quickly things take a decidedly strange turn when the rule about new borns is unveiled.
Director Biography – 
Hafid Abdelmoula
Hafid is an award-winning Moroccan-American Writer/Director, Actor and a Singer, who earned his Bachelor in Film from New Mexico State University and an MFA in directing from Vermont College of Fine arts. At an early age Hafid was a singer at the Moroccan Regional Orchestra Conservatory and an actor/writer/director at the local theater company. He wrote and directed his own first plays at the age of 20. Hafid is also a singer winner at the 1996 tv competition of the Moroccan 2M Tv channel. Since his move to USA, Hafid has been active in so many projects that led to some awards. The combination of multilingualism and an exotic background have enabled Hafid to have a multicultural diversity and a huge understanding of the world view which helps him tell better stories perspectively.
Hafid speaks multiple languages: Arabic, Berber, French, English and Some Spanish & German.
Project Links