"EARL BISS – The Spirit Who Walks Among His People" reveals a Crow artist's joyous, bold, tumultuous journey to success in the Fine Art world. A master painter and descendent of great Crow Chiefs, Earl Biss (1947-1998) brought inherent, ancient spiritual power to his dynamic oil paintings in the 20th Century. With pure talent and fortitude, he was part of a renowned core group of artists that birthed the Contemporary Native Art Movement. Biss was recognized by an art critic as the greatest colorist of the 20th Century.
Director Biography – 
Lisa Gerstner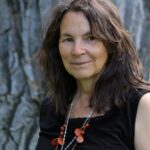 Lisa Gerstner is a director, producer, writer, composer and artist. She is the International award-winning author of Earl Biss' biography, written in cooperation with Earl Biss. She co-produced the feature docudrama "Openings -The Search for Harry", co-produced and scored the documentary "Girls on Purpose", and directed, produced, and scored many educational videos in the arts field, including a series of short films on renown sculptor, Gib Singleton. Lisa has a Master of Science in Education Media Design and Technology, and a Bachelor of Fine Arts.
Project Links