Esther, a composer going through a dry spell, finds an inspiration in an unusual and possibly dangerous Muse.
Director Biography – 
Alia Azamat Ashkenazi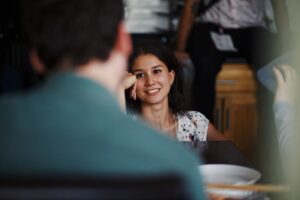 Born in Uzbekistan and raised in Russia, Alia Azamat Ashkenazi is a published Poet turned Award-Winning Filmmaker.
Alia is a recipient of two United Nations Medals for the "Heart to Heart" and "We Live Dreaming of Peace" screenplays. In two consecutive years at the United Nations Arts Festival, Alia won Best Mixed-Arts Project Award for her multimedia play "Michael Jackson: Peacemaking" and Best Film and Best Director for "Sadako," a short docu-film about Sadako Sasaki – one of the most widely known victims of Hiroshima nuclear attack remembered through the story of one thousand origami cranes she folded before her death.
Since moving to US in 2014, Alia Script Supervised more than seventy narrative and commercial projects and optioned out two feature film screenplays. She is now developing a political drama with The Deuce's Margarita Levieva.
Alia co-directed atmosphere scenes for and co-wrote a feature documentary "Misha," that explores a life of the first Korean to make the USSR Olympic Soccer team Mikhail An who died in a plane crash in 1979 with his whole football club from Tashkent. The film's director is Good One Inc's Brian Song, cinematographer is House of Cards' and Fargo's Pete Konczal, and it is narrated by Dead To Me's Keong Sim. "Misha" premiered at 2020 Big Apple Film Festival, and was recently officially selected at 2021 Santa Fe Film Festival.
Alia's narrative directing debut "Esther's Choice" stars Francois Arnaud, Emma Orelove and Mary Leest. The film premiered simultaneously at Chelsea Film Festival in NYC and LA Femme Film Festival in Los Angeles in October 2020, won the Best Narrative Film and Best Cinematography at Venice Shorts, had an International Premiere at Paris Independent Film Festival, played at Big Apple Film Festival and Northeast Film Festival, and was recently officially selected at the 2021 Santa Fe Film Festival.
Project Links