Hours before "Star Wars: The Rise of Skywalker" premieres, Jude goes missing. Now it's up to Frankie and her closest allies to find her best friend, before it's too late.
Director Biography – 
Amy Baklini, Lauren Myers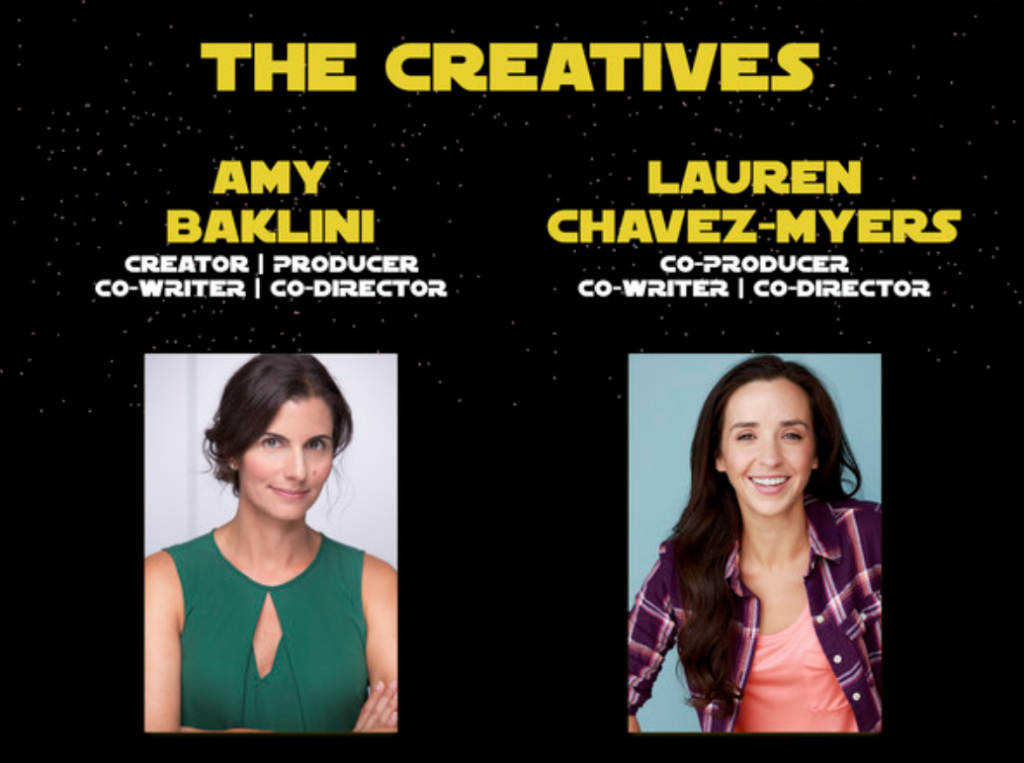 LAUREN CHAVEZ-MYERS is a filmmaker, actor, and proud "Burqueña" from New Mexico. She received her BFA in Theatre Performance from Chapman University while simultaneously discovering her passion for writing, directing, and giving a voice to underrepresented groups in media.
After graduating, she spent eight years working in professional film, television, and theatre in New Mexico, including a two season recurring role on WGN's "Manhattan" opposite Michael Chernus. Other notable roles include 12 Strong (w/ Michael Peña), AMC's "Better Call Saul," The Space Between Us (opposite Gary Oldman) and the CBS All Access show "Interrogation." Chavez-Myers proudly served 5 years as a company member and the Director of Media & Marketing for Duke City Repertory Theatre, where she produced all of their trailers, media, and online content. She co-wrote, produced, and starred in the feature film Dead Billy, and recently wrote and produced the social impact comedy "Enough Room," which highlights tolerance in the face of passive racism (while on a first date!).
Chavez-Myers has also directed several award-winning shorts, including "Imagining Vera" (Winner: "Best Film" & "Best Director," ABQ 48 Hour Film Festival), and two of the previous "Frankie & Jude" films which have screened in numerous comic-con theaters and festivals across the country — and world.
She lives in Los Angeles with her husband and pup Marty McFly, is a self-proclaimed Gryffindor Quidditch Captain, and has no doubt that she could successfully pilot the Millennium Falcon on a first try.
AMY BAKLINI is a filmmaker, actor, and a recent graduate from UCLA's Professional Screenwriting Program. She has been in the industry for over 10 years working on predominantly indie projects. Baklini graduated with her degree in theatre from the University of New Mexico and received the Violet C. Moore Award for acting. She also spent a year abroad studying at the University of East Anglia in Norwich, England.
After graduating, she worked on various film productions, both in front of and behind the camera. Her favorite credits include The Merry Maids of Madness (a comedy based on the women of Shakespeare and official selection of the Heartland Film Festival),  "Leslie" (Winner of 'Best Drama Short' at Los Angeles Independent Film Festival), and "Good Guys with Guns" (official selection of Flicks For Change).
Baklini grew up loving Star Wars, so in 2015, when the release date of The Force Awakens drew near, she wanted to celebrate the new trilogy. She also had a story to tell, and pushed herself to write and produce her very first short film. Thus became the birth of "Frankie and Jude."
After some mild success and requests from fans for a sequel, she and her team turned their singular film into a series that has screened in over 30 festivals worldwide. But with the conclusion of the nine-part Star Wars saga, "The Search for Jude" also brings the misadventures of Frankie and Jude to a close.
Ultimately, Baklini is passionate about telling stories that make people laugh, bring people together, and highlight the importance of love.
Project Links