Official Selection of 77 film festivals with more than 28 nominations and 20 awards including 12 as best short film. And our list keeps growing!
When a planet-hopping cowboy-criminal (Jason R. Moore, Marvel's The Punisher) returns to New Mexico after a heist-gone-wrong, he expects a hero's welcome. Instead, he finds his mutinous crew have decided he's no longer in charge.
Director Biography – 
Justin Eugene Evans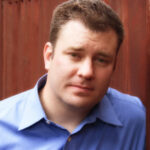 Justin Eugene Evans' previous film, A Lonely Place For Dying, was accepted in 46 film festivals. The film was nominated for 53 awards and won 29 including 18 best pictures. Justin then took a leave of absence from filmmaking for 8 years to invent a new type of cinema lighting system. He is now returning to filmmaking with a Science-Fiction/Western short film entitled Honor Among Thieves.
Justin's engineering skills include mechanical, electrical, mechtronic, optical, and thermodynamics. He worked in 18 factories throughout China to teach himself the fundamentals of modern manufacturing. He taught himself basic Mandarin so he could navigate the world of Chinese and Southeast Asia manufacturing.
As an adult with Asperger's Syndrome, he often feels slightly out of step. Justin's son, David, is also Autistic and his wife is a college culinary instructor at an Autistic school in Wisconsin. Together, they educate non-Autistics about Autism and advocate for Autistic acceptance.
Justin splits his time between invention and filmmaking.
Project Links