SHATTERED TEXAN LATINA BULL RIDER PATTY "DUKE" RISKS PARALYSIS TO RIDE AGAIN AND RECLAIM HER GLORY.
HUNG UP updates the modern-day cowboy mythology to a cowgirl mythology, telling the story of the injured-but-indomitable Patty "Duke," played by Ecuadorian-American actress Melissa Jackson.
HUNG UP is from Mystic Entertainment and Texan Director Damon O'Steen (DEADLAND), stars Melissa Jackson (FEVAH; JACK AND JILL), Kevin Kane (Netflix's BONDING, THE IRISHMAN) and Catherine CURTIN (Netflix's STRANGER THINGS, ORANGE IS THE NEW BLACK, and HBO's INSECURE), and is produced by Jackson, Nikhil Melnechuk (DON'T BE NICE; FEVAH), Marc Henry Johnson (Writer/Producer of HBO's THE DEUCE), and O'Steen.
American Humane monitored the animal action. No animals were harmed®. (AHD 09006)
Director Biography – 
Damon O'Steen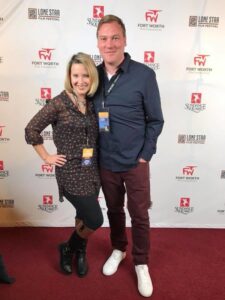 A graduate from the Art Center College of Design in Pasadena, CA, the Texas-born filmmaker has directed three feature films, including the apocalyptic thriller DEADLAND, starring Brian Tee (CHICAGO MED), winning best picture and director awards on the film festival circuit. He spent five years directing marketing content for Relativity Media, working with A-list athletes in cross-promotion commercials, shorts, and theatrical ads.
Most recently, Damon wrote and directed PHANTOM NIGHTS, a pilot for Ron Howard's New Form Digital, which is being developed for TV with Campanario Entertainment and John Herrera & Nina Fiore (writers of THE HANDMADE'S TALE).
Project Links