A struggling nineteen year old is contemplating ending her life. On the train to her nan's, her journey is interrupted by another young woman's death.
Director Biography – 
Esmé Creed-Miles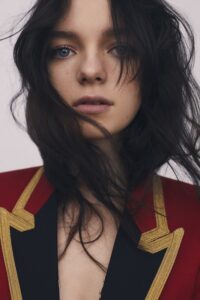 Esmé Creed-Miles is a shining star within the British acting landscape, cemented when she was selected by Screen International to be one of their highly prestigious 'Stars of Tomorrow' in 2018.
She began her acting career aged 7, as little Shirley Temple in the film Mister Lonely directed by Harmony Korine. She later snagged the role playing Ruth Wilson's character as a teenage girl, in Clio Barnard's Dark River (2017), and key roles in UK indies (Undercliffe and Pond Life).
Esmé was cast in the lead role of Amazon's eight-part hit series Hanna and subsequently another two eight-part follow up series. The role required an enormous amount of physical and mental preparation. She learnt French, rehearsed stunts, fight-training, and martial arts for months. She has received high acclaim for conveying the character's emotional vulnerability, intelligence and physical power. Whilst on set, Esmé took an active interest in the different directing styles and approaches of the people she was working with.
Despite her successes behind the camera, and growing up as the daughter of actors Samantha Morton and Charlie Creed-Miles, Esmé has set her heart on the other side of the camera.
Esmé has written and directed her first short film Jamie, with support from BBC Films, the SAT Fund and production house Prettybird UK. She has also optioned the rights to a novel which she is adapting into a feature length script, currently in development.
AWARDS
*Nominated for Most Promising Newcomer at 2018 BIFAs
Project Links