"Jesse James" traces the moments between a neighbor's phone call and the arrival of the police, when Jesse and his lover test the boundaries of their relationship and come face to face not just with what they are losing but with what they have already lost — when Jesse can no longer save his relationship but only himself.
Director Biography – 
Josef Steiff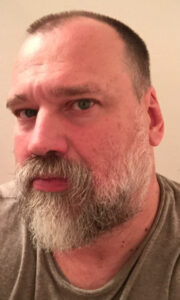 Raised in rural Appalachia and a former licensed social worker, writer/filmmaker Josef Steiff creates work that reflects his interest in the ways that people struggle to make personal sense out of random, impersonal events. Exhibiting in the United States, Europe, and Asia, his film work includes directing the award-winning shorts Borders, Catching Fire, Indian Summer, Eclipse, and I Like My Boyfriend Drunk as well as the documentary, How Will I Tell? Surviving Sexual Assault. He has produced the short films Safe Word and The Quit (directed by Todd Lillethun) and served as general crew on Michael Moore's Roger & Me and Wendy Weinberg's Academy Award nominated documentary, Beyond Imagining. Steiff's feature work includes writing/directing The Other One (winner of 4 Indie Awards), writing/directing the last chapter of the Split Pillow experiment in collaborative filmmaking SoulMaid, producing Rhapsody (directed by Mark Bessenger), and line producing More Beautiful Than A Flower for MBC Television, the first Korean feature-length film to deal openly with physical disabilities. Steiff is a graduate of Ohio University School of Film and currently a Professor of Cinema and Television Arts at Columbia College Chicago.
Project Links