A woman quarantined with her husband questions the reality of the threat keeping her inside her home and starts to believe he is holding her prisoner. Her mental state begins to unravel until she finally plots her escape Outside.
Director Biography – 
Amy Acker, James Carpinello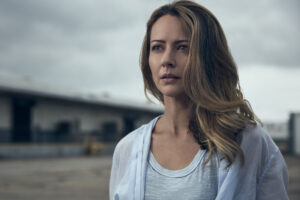 This is Amy's directorial debut. Her acting credits follow:
Amy received a BFA from Southern Methodist University. She transitioned to film and television after being cast on Joss Whedon's series, Angel, where she won a Saturn Award for her role of Winifred Burkle. Other series regular roles include Alias, Dollhouse, Person of Interest, and The Gifted. Additional television roles include Suits, Grey's Anatomy, Agents of Shield, Once Upon A Time, How I Met Your Mother, The Goodwife, and Supernatural. Film credits include Cabin in the Woods, Much Ado About Nothing, Superman: Red Son, Catch Me If You Can and Amanda and Jack Went Glamping.
This is James' directorial debut. He produced the film Let's Kill Ward's Wife, which was acquired by Tribeca Films. His acting credits follow:
Film: Midway,The Dunning Man, Gangster Squad, Let's Kill Ward's Wife, The Punisher,
The Great Raid. TV: The Enemy Within, The Blacklist,The Gifted, Gotham, The Good
Wife, The Mob Doctor, Person of Interest, Castle, Blue Bloods, Body of Proof, In Plain
Sight, Law and Order SVU, The Closer and several others. Broadway: Original
companies of Rock of Ages, Xanadu, Saturday Night Fever. Off Broadway Stupid Kids
(directed by Michael Mayer). Honors graduate of Carnegie Mellon University's BFA Acting Program. James lives in Los Angeles with his wife Amy and two children Jack
and Ava.
News & Reviews
"Amy Acker's Quarantine Horror"