Growing up in San Francisco, Jenya saw the world around her changing and after the death of both her parents, she became desperate to find a sense of belonging and connection. The film explores her journey as she embarks on a new path restoring ecosystems with the help of her flock of sheep. Through her journey, the film invites us to think about our ability to participate meaningfully and intentionally with the natural world, and to see that by healing land there an opportunity to heal ourselves.
Director Biography – 
Abby Fuller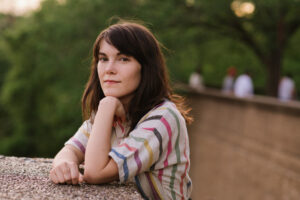 Abigail Fuller is an award winning documentary filmmaker whose work includes four seasons on the Emmy-nominated series Chef's Table, Dear Oprah for Apple TV+, and the feature documentary Do You Dream in Color? She is a member of the D&AD Impact Council that seeks to honor projects that accelerate positive change, and directs commercial content for various clients, represented by NonFiction Unlimited. Recently she was the recipient of The Move Mountains Filmmaker Grant presented by The North Face. Her work has twice premiered at the Berlin International Film Festival, the Big Sky Documentary Film Festival, Telluride's MountainFilm, and the Metropolitan Museum of Art to name a few. Abby is dedicated to telling deeply human stories that allow for empathy and sharing new perspectives.