Stand Up, Stand Out: The Making of a Comedy Movement tells the story of a unique brand of activism belonging only to San Francisco–where three gay teachers' fight for equal rights during the burgeoning Gay Liberation Movement of the 1970s, led to the blossoming of the Valencia Rose Cabaret, Café, and Restaurant, believed to be the first and only gay-owned and operated comedy club in the USA. As AIDS ravaged San Francisco, a gay and lesbian comedy club flourished in, of all places, an old mortuary.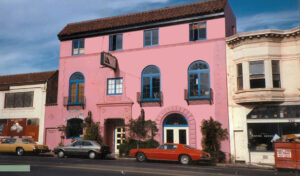 From 1981 to 1986, the Valencia Rose Cabaret, Café, and Restaurant blossomed as the home of queer comedy, the birthplace of many well-known careers, a de-facto community center and a gathering place for activists. At a dark historical moment, it was a locus of resistance through laughter. Stand Up, Stand Out is a thirty-five minute documentary that plunges into a little-known, but widely resonant, chapter of queer cultural history: the story of the Valencia Rose (1981-1986). Through the voices and humor of the Rose's performers, the film explores gay comedy as an outgrowth of the rich traditions of activism and performance in San Francisco, an empowering response to the conservative politics of the era, and a valiant quest for joy and laughter amidst the horrific onslaught of the AIDS crisis.
Stand Up, Stand Out features Tom Ammiano, Karen Ripley, Monica Palcacios, Danny Williams, Dirk Alphin, Paul Boneberg, and the song stylings of Romanovsky & Phillips.
Director – 
David Pavlosky
Project Links