Pauline and Barry are a seemingly happily married middled aged couple. That is until Pauline tunes into relationship hour on Talk Radio and thinks she recognises the nameless voice that's relaying a lifetime of regrets live on the radio.
Director Biography – 
Ben S. Hyland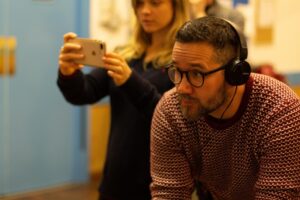 Ben S. Hyland is a writer/director raised in Nottingham but now based in London. He makes comedy.
In 2019 Ben was a finalist in the ENTER THE PITCH competition.
In the same year his short film ROLE MODELS won it's category at The Charity-Film-of-the-Year Awards.
In 2018 he was awarded funding from the Talkies Film Fund for his short comedy Quiet Carriage starring Amit Shah and Emma Sidi. The film has screening at BIFA, BAFTA and OSCAR qualifying festivals including LOCO, London Short Film Festival, Norwich, LA Shorts, Aesthetica and Encounters.
In 2017 he won the Colchester Film Festival 60hr film challenge with his film JUNIOR. In the same year he was shortlisted (top 20) for the JAMESON'S FIRST SHOT from 2722 entries.
​
Ben is a member of DIRECTORS UK and he is also part of BAFTA Crew 2018/19.
​
When not making films he's testing out new material on his unsuspecting wife, children, cat, dog and his fat hamster, Rhino.
Project Links