Revealing, intimate documentary spotlighting the Hollywood horror community, covering such wide-ranging topics as Being The Weird Kid, Sparking The Imagination, Women In Horror, Race Relations, Helping Each Other, Film Festivals, and The Dark Side.
Director Biography – 
Ruben Pla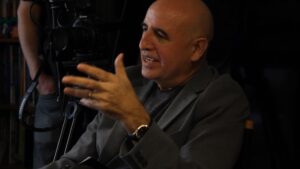 Ruben Pla survived growing up in the dangerous Washington Heights neighborhood of New York City…surrounded by gangs and violence. He stuck to his studies and went to college in Miami, majoring in Theatre Arts. Upon graduation, he returned to New York, and began his film and TV acting career. To get his film chops, he plunged in and worked on scores of N.Y.U. student films, which proved to be a tremendous training ground for gaining on-set experience. He then relocated to Los Angeles to test those waters. There, he has performed in many TV shows including HOW TO GET AWAY WITH MURDER, "24", WEEDS, CRIMINAL MINDS, CSI: MIAMI, WITHOUT A TRACE, and EVERYBODY LOVES RAYMOND. Feature films include INSIDIOUS, MALIGNANT, CONTRACTED, BIG ASS SPIDER, FETISH FACTORY, CHEAP THRILLS, and CHEMICAL PEEL. Ruben is now branching into directing. THE HORROR CROWD is his feature directorial debut.
Project Links