1972. Vietnam war protests and racial tension is sizzling in the late summer heat of Tuscaloosa, Alabama. Billy Mitchell (Devon Bostick, Diary of a Wimpy Kid), a recent college graduate, spends the summer working on the lush grounds of an old world mental institution run by his psychiatrist father (Tate Donovan, Rocketman). Billy falls in love with Virginia (Natalia Dyer, Velvet Buzzsaw, Stranger Things), a patient who is possibly crazy, or perhaps she is the only sane person Billy has in his world. Billy's best friend Nigel (Marchánt Davis) becomes involved with a radical civil rights activist (YG) against Tuscaloosa's power elite, which includes Billy's father. Billy is torn between Nigel, his father and his cronies, and Virginia who is planning her escape with or without Billy.
Director Biography – 
Philip Harder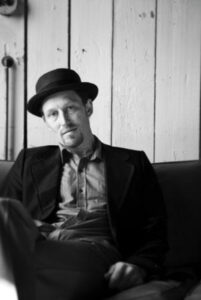 Philip Harder writer/director has directed numerous commercials and music videos for clients including Apple, Sprint, The Gap, Target, Advil, Gerber, NHL, Disney and Hewlett Packard. His music videos include Prince, Foo Fighters, Incubus, The Script, CSS, Nada Surf, Rob Thomas, Liz Phair, Babes in Toyland, Macy Gray, Hilary Duff, Low, Cornershop, Trampled By Turtles, Pulp, The Cranberries, Barenaked Ladies, Matchbox Twenty, Afghan Whigs, all of which feature Harder's visual experimentation and energetic style.
Harder has earned several top distinctions including an MVPA award for Best Alternative Video, MTV Awards video nomination, SXSW short film award, and a nomination for MVPA's Director of the Year. His dance shorts have earned numerous awards including the Jury Award at the Dance on Camera Festival at Lincoln Center New York, and Best Experimental Film Award at the Brooklyn International Film Festival.
Harder's cinematography credits include the 2016 feature film "Yoko The Cherry Blossom", shot and distributed in Japan, dir. Gen Takahashi, "Snow" which was nominated for a Spirit Award and "Low Movie" which premiered at the Lincoln Center, New York. His most recent documentary film is "A Work In Progress: Albert Milgrom's Cinema Journey" (2018).
Project Links