This short documentary film shatters the preconceptions of homelessness, explores the ramifications of unstable housing for children, and provides a solution to adverse childhood experiences and future health outcomes through the assistance of the Illumination Foundation who seeks to disrupt the cycle of homelessness in Orange County and Southern California.
Director Biography – 
Noah Berlow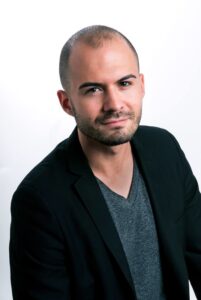 Award-Winning Documentary Filmmaker Noah Berlow is a visual storyteller who straddles two worlds—the world of entertainment and the world of serious documentaries that educate, raise consciousness and help bring about change.
Winner of the Outstanding Young Alumni Award at Ithaca College in 2014, Berlow has over 400 titles to his credit directing, producing and editing including feature length documentaries
and dramas that have appeared on Netflix, BBC, VH1's Palladia TV, and BET.
Noah Berlow Documentary Credits
• https://vimeo.com/album/4598710
• pw=noahberlow
The body of Berlow's work was recognized by the Ithaca College Alumni Association when he was the first person from the Park School of Communications since David Muir of ABC News to be selected to receive the Outstanding Young Alumni Award.
Berlow is most proud of his films that educate, raise consciousness and help bring about social change.
In March, 2019, his short film "if…" helped the Illumination Foundation in Orange County, CA, to raise $1M to help the homeless. In another outstanding success, working with HIVOS, Amnesty International, and the Guardian Newspaper, Berlow produced and edited a documentary feature on female genital mutilation (FMG) in Kurdistan entitled Our World: Dropping the Knife – Kurdistan. The film was picked up by BBC Arabic TV and broadcast to an estimated audience of 30 million viewers. The film successfully helped to outlaw FGM in Kurdistan.
Despite being known in L.A. as a go-to filmmaker for music videos and behind the scenes VH1 and Palladia TV documentaries featuring musicians like Sully Erna, Alter Bridge and Slash and directing upcoming stars like LORDE and Drake for a Rolling Stone online interviews, emotionally difficult material is not new to Berlow.
Berlow worked full-time in the Research & Education Department of Steven Spielberg's SHOAH Visual History Foundation editing testimonies of Holocaust survivors for documentaries and educational shorts. Berlow's credits at the SHOAH Foundation include editing the Foundation's Award Winning Documentary, Recollections: Eyewitnesses Remember the Holocaust, which won the BAFTA Award for the Best Learning in the Secondary Education Category in 2007.
He is the Co-Founder and President of his film production company, Immortal Cinema International, Inc., and he is the Co- Founder and Chairman of a non-profit foundation VETERANS IN CINEMA FOUNDATION 501(c)3 ,whose mission is to help veterans find employment in the film and entertainment industry.