A showdown between an ambitious actress, her shady business partner, and a Hollywood Diva turns into a 3-way double-cross. On the outskirts of town, Lily reluctantly meets Howard with pictures of what seems to be his infidelity. Soon, we realize that Howard is not her ex-lover, but rather her stalker — A stalker for hire.
Director Biography – Tim Aslin, Shane Cibella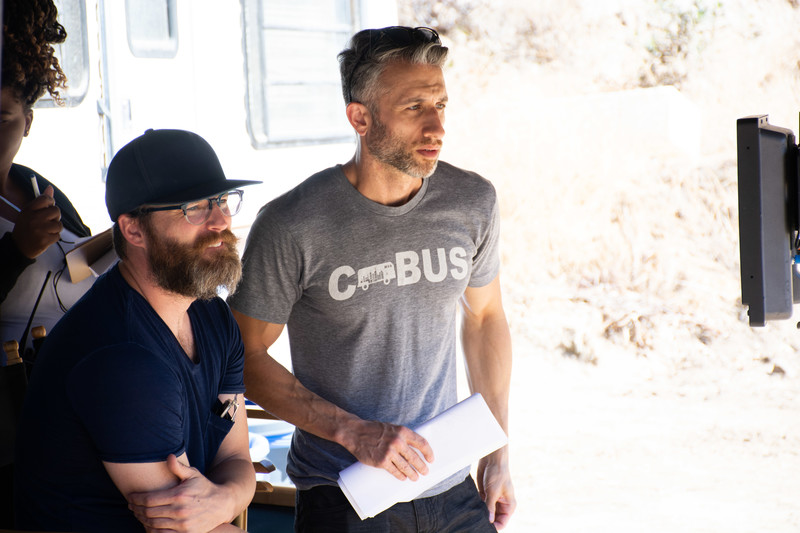 Tim Aslin and Shane Cibella have been directing, writing, and producing together for over a decade, culminating in the creation of their production company Silent Thunder Films.
Their satirical style has been a trademark of their work from the start, with an emphasis on stories that explore toxic norms. Through their particular brand of dark humor, Aslin & Cibella strive to capture audiences by revealing the absurdity of human behavior.
Previous projects include the avant-garde call to action 'Frontline of Humanity', the popular action-comedy series 'Devil's Couriers', and most recently, the satirical neo-western '2 Timers', Executive Produced by Jamie Lee Curtis, starring Amber Stevens West, Steven Weber, and Jane Kaczmarek.
Currently, filming is underway for their psychological thriller '5.7 seconds'. When an unseen threat forces a young woman to take refuge in an abandoned car, she must determine where the true danger lies: inside or out. The film is scheduled to be completed at the end of 2021.
Aslin & Cibella also have three feature-length scripts in development, the vengeance-thriller 'Capably Violent', a psychological-thriller 'The Woods', as well as the feature film continuation of their award-winning series 'Devil's Couriers'.
Highlights:
Winners of Best Web Series – Chicago Comedy Film Festival
42 Episodes of Devil's Couriers
Official Selection – NewFilmmaker's LA
Creators to Watch – Movie Maker Magazine