Showtime: Friday Dec 4th, 7:00 AM at el Museo Cultural de Santa Fe > Buy Tickets
---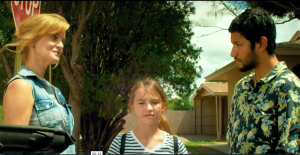 Q&A with director, Rod McCall, after the screening.
This is a fable, a tale of magical realism, with a strange, child-like 'Visitor' at its center: a silent Visitor, who falls from the sky in a cardboard box. Into a Pecan orchard. Near a tiny New Mexico/Mexico border village.
Mistaken for an illegal immigrant, the Visitor encounters suspicion, hatred and violence as he completes his mission.
Jim had its World Premiere at The Madrid International Film Festival in June where it was nominated for Best Film, Best Director and Best Actor at The Madrid International Film Festival. It had its USA Premiere at The San Antonio Film Fest in August.