Make Me is a single shot, drone music video with destructive meteors, explosions, fire and robots.
About the song:
It's a song about heart ache and dreaming of a perfect future. The mental state of the song is in the throws of anxiety. Feeling like the world is ending when, in fact, everything is fine.
About the video:
This music video is a physical manifestation of the song's theme. The protagonist (Dir. Ford Corl) is laying in a field feeling like the end is near and imagining what his version of the apocalypse might look like.
Director Biography – 
Ford R Corl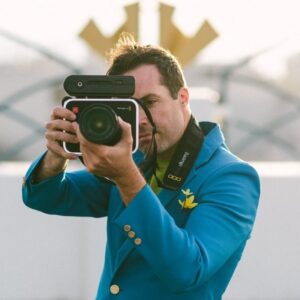 Ford Corl was born and raised in Tucson, Arizona, where he earned his Bachelor of Arts in Media Arts from the University of Arizona film school. There he was taught the art of filmmaking and storytelling. Ford's short films have played in film festivals around the country.
Since college, he has enjoyed an eight year career in live television news, as well as starting a non-profit production company, making music videos for local musicians. Ford was honored to receive an Emmy Award for Best Live Director in 2010 and in 2014 for Best Arts and Entertainment Program, as a Director. Ford now travels to the deepest corners of the country, capturing beautiful nature imagery for The C.A.R.E. Channel.
Ford is also deeply passionate about music and has written, record and produced 6 studio records.