No longer girlie enough for her girlfriends and starting to become too girlie for her guy friends, and eager to grow up, Nika, a 14-year old tomboy, is just trying to figure out her place in the adolescent world. When she hears a rumor that her mother is a stripper, she at first doesn't know what to do. Shocked, dismayed, and then curious, Nika decides to investigate. When she sneaks into the Hideaway, the strip club on the edge of town, she is ushered into adulthood, changing her relationship with her mother forever.

Director Biography – 
Jane Stephens Rosenthal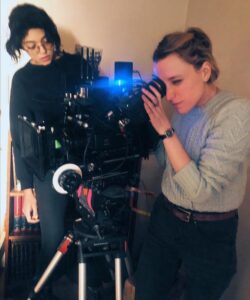 A poet and an actor, Jane Stephens Rosenthal grew up in Los Angeles and immersed in film. She moved towards directing after working with artistic director Yuval Sharon while writing the acclaimed LA opera "Hopscotch." Writing her first short film, she realized that if she wanted to see/feel the story she had written as an actor the way she wrote/felt it, she was going to have to direct it herself. And she fell in love. Her directorial debut NO ONE EVER SAID premiered at the Independent Filmmakers Showcase, played in the LA International Shorts Festival, HollyShorts and will be online in the Unlonely Film Festival. She graduated from the American Film Institute in the directing program.
Project Links