1940s Los Angeles. A place where the sun shines too bright, the rain falls too hard, and Jewish detective and caterer Marlowe Phillips gets more than he bargained for as he sets out to solve the case of the missing Fishfeld – coming up against femme fatales, the Polish Mob, murder, and his own demons. He finds himself battling feelings of being trapped and isolated – from his past in a German POW camp to an impending marriage to his long-suffering secretary. When classic noir collides with the remote technology and green screen of these socially-distanced times, the result is this deadpan homage to "Lady in the Lake" — all shot from the Detective's POV. And all shot during the worst days of the pandemic — with each actor isolated — yet pushing the boundaries of zoom, editing, art direction, and comedy, to create a seamless noir that could only be made in these Covid times.
Director Biography – Deb Lacusta, Dan Castellaneta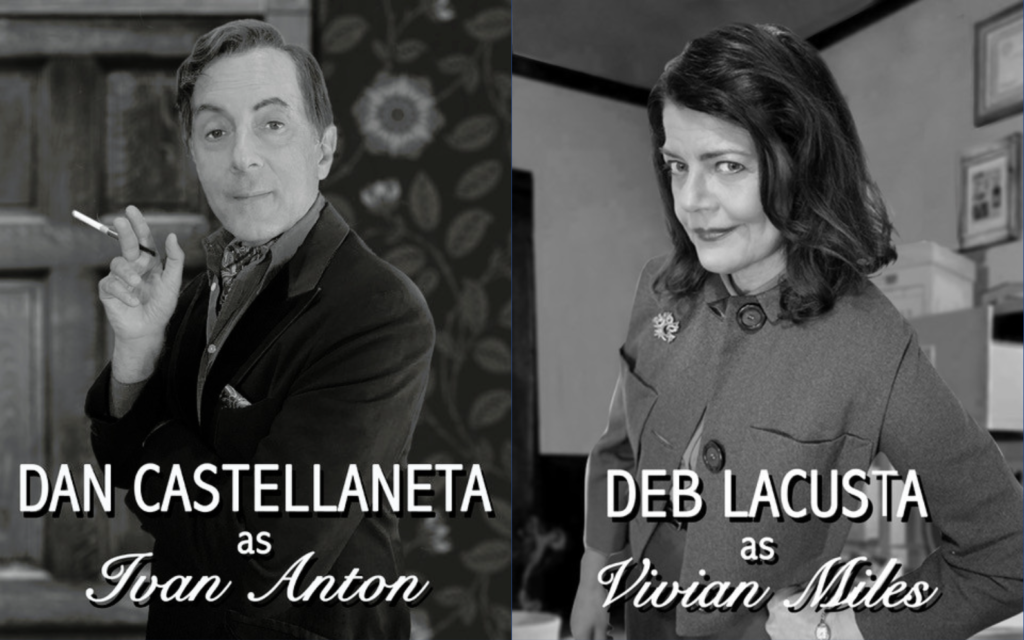 Deb Lacusta and Dan Castellaneta are best known for their writing work on "The Simpsons." And Dan, a four‐time Emmy recipient (as Homer, Grandpa, Krusty, etc.), is also Co-Executive Producer. Their numerous plays and shows have been performed in theaters across the U.S. and Europe. They have extensively worked in improvisation for the theater, as directors, teachers, and performers, creating the long-form improvisation company IMMEDIATE THEATER and the IMPROV CO-OP in Los Angeles, and INSTANT THEATER Chicago. Dan directed, to acclaim, Deb's play OLD MAN IN A BIG CAR, starring Paul Dooley. Deb wrote, directed and starred in her performance art film STARRING MARLON BRANDO. Her fine art and performance art has been exhibited in museums and galleries here and abroad.
As co-writers: FRANKENSTEIN'S DAUGHTER, FORTUNES, EMPIRE BURLESQUE (Disney/ASCAP Musical Workshop, hosted by Stephen Schwartz, Broad Theater/Edye Stage), EARTHERS and PIECES OF EIGHT (Organic Theater/Chicago, Theatre 6470/LA), DEB & DAN'S SHOW (The Improv/LA), and the one-acts: THE PIECE, and SHOCK AND AWW. FOR PIANO AND HARPO (Garry Marshall's Falcon Theater, Burbank) was written by and starring Dan as the acerbic Oscar Levant, with Deb as June Levant.
Dan's acclaimed one-man show, WHERE DID VINCENT VAN GOGH? played LA, NYC, Chicago, Aspen HBO Comedy Festival, and Edinburgh Theatre Festival. Acting: SECOND CITY, THE UNDERPANTS (Geffen Theater), TWIST YOUR DICKENS and NIGHTHAWKS (Kirk Douglas Theater), MOONLIGHT AND MAGNOLIAS (Old Globe), THE ALCHEMIST (Classic Stage/NYC), AMERICAN SPLENDOR (Theater/Theater), THE TRACEY ULLMAN SHOW (co-star), and numerous TV shows and films.
Represented by Bruce Miller, Washington Square Films: bmiller@wsfilms.com.