Chock full of cool history, images and art brought to life through extraordinary vintage and contemporary footage and authentic music, "The People's House" explores the spell that New Mexico has cast on artists who have trekked to the state over the centuries and presents a beautiful insight into this beloved land through the windows, walls and portals of the official chief executive's residence. The film presents a unique showcase of the state's diverse cultures and rich history, narrated by award-winning author Hampton Sides. Viewers of The People's House will not only be treated to a visual journey through stunning artwork by world-famous icons who helped to make New Mexico an international destination, but they will come away with a deeper understanding of the particular magic that drew the artists to the state in the first place.
Director Biography – Jaima Chevalier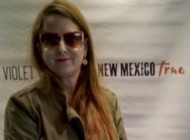 Jaima Chevalier is an award-winning author and filmmaker based in Santa Fe, NM. Her artistic focus documents authentic stories of the American Southwest, ranging from flamenco and famous artists of the region to Indigenous protest movements and exposing cultural appropriation.