After being given news of their pending eviction, a lovable and talented theater company plots a heist to pay their rent while filming at a local bank.
Director Biography – c, Phillip G. Griego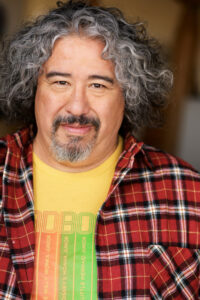 Doug has been involved in improv for over 30 years. He studied improv under Ron Wilson, founding member of the Groundlings, and acting with Duke Stroud and Whitney Rydbeck. Doug co-founded The Box over 10 years ago, and it has been Albuquerque's premier home to Live Comedy Improv with The Show, and Albuquerque's largest improv community. Many well-known performers have graced the stage of The Box, including Bob Odenkirk and Kevin McDonald. The Improv Classes at The Box have instructed thousands of students through the years, winning many local awards along the way.
Co-Artistic Director of Cardboard Playhouse Theatre Company
Doug is the founder of Cardboard Playhouse Theatre Company, celebrating its 15th Season in 2019. Doug wears many hats as co-artistic director of CPTC: among them are director, producer, set designer and builder, marketer, and sometimes, even actor. He loves all aspects of the theater and especially the chance to help young artists grow and develop. Doug is proud of the young women and men who grew up in the program and who are now working and collaborating with CPTC.
Proud Father
Doug is the very proud father of Albuquerque local actor and filmmaker Kelsey Leos Montoya. Kelsey is the most important reason why he founded Cardboard Playhouse Theatre Company, to give his son and other children a forum to perform and create magic on the stage. Kelsey is also a cast member in "Third Act" and has also gone on to direct many of Cardboard Playhouse shows himself.