Somewhere in the city, Mason lures his boyfriend Kelly off his seat to dance, leading them to create a happy memory. Jump forward to the present day, Kelly is attending a late AA meeting while Mason is drinking at a party, elsewhere in the city. Mason receives a phone call with some distressing news. Back at the AA meeting, Kelly listens to Mason's voicemail, in which he claims to have been drugged and needs help. Kelly leaves the AA meeting to go find Mason despite it being late in the evening.
Yet, when Kelly locates Mason at the party, he finds him in an upstairs bedroom with another man, looking far from needing help. Kelly storms out of the party and onto the streets of the city, with Mason chasing after him. They argue yet Mason does appear to be a little out of it. Out of concern, Kelly takes Mason to a late-night coffee shop, in attempt to sober him up. The pair stroll down memory lane over coffee. A little less angry though still concerned, Kelly decides Mason still cannot make it home on his own.
Kelly walks Mason back to his place, where they used to live together, to find an eviction notice posted on the door. Once inside, Kelly tries to provide comfort but Mason makes a horrific confession that not only is he HIV+ but he knew for a while back when they were together. The pair eventually fall asleep from mental exhaustion. The next morning, Mason finds an empty bed with Kelly nowhere to be found. After a brief search, Mason finds Kelly sitting in the backyard intoxicated. Emotional chaos ensues as Kelly blames Mason for everything. All Mason can do is wrap his arms around Kelly, who has reached his lowest point.
Director Biography – Stanley Bain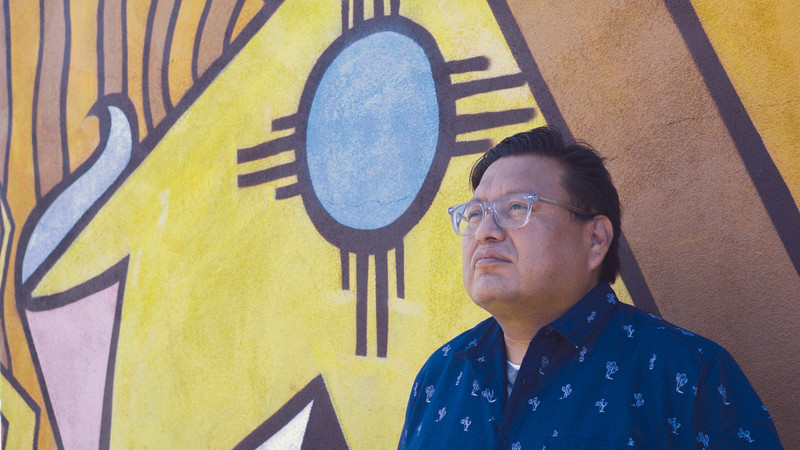 In 1974, I came into this world, and for the next eighteen years I grew up on the Navajo Reservation in Indian Wells, Arizona. When I was not tending to chores for my parents or herding sheep for my grandparents, I spent time playing with my siblings and cousins. My imagination bloomed, and with the creation of the VCR and our small 19-inch television, I became an avid viewer of film and television. I enjoyed everything. It was not until my parents dragged me to see Dances With Wolves, in the theatre, did I realize that movies could be so much more. At the time, the emotions that particular film evoked spoke to me differently, unlike anything ever done before.
In 1999, I obtained a Bachelors's in Mathematics from Arizona State University. I worked at the university for a couple of years utilizing my degree but moved on. For the next decade and a half, I worked odd jobs before making a plan to pursue my dream of being a filmmaker. In 2016, I relocated to Mile High City to attend Colorado Film School. After three years, I graduated in Writing/Directing for Motion Picture. While there, I worked on numerous projects, in a variety of positions, and directed seven of my own films, which I wrote and produced as well. At the start of 2020, literally five days in, I relocated to Albuquerque, New Mexico, seeking employment in the growing film and television industry here. Unfortunately, at the time no one was aware of what would come in 2020. While my plans were placed on hold, I was able to complete post-production on my film Together, which I began during my final year at film school.
Earlier this year, I began submitting my film to several festivals across the country. I am honored that my film will have its world premiere at the Phoenix Film Festival 2021, this August. I hope to continue this trend through the rest of the year. My team and I are hoping for more opportunities to showcase our work. Additionally, as a receipt of the 2020 Senator John Pinto Native Filmmakers Memorial Fund, I am guaranteed a public screening here in the Duke City, which I am eager to see occur later this year. I admit that film and television provides an escape, as it did for me as a child, teenager, and now as a middle-aged man. Being a filmmaker provides the opportunity to tell a good story with great characters to provide that escape, or even make an impact beyond that escape, on someone else's life, as it did for mine.