Sam is a boy with epilepsy so desperate to feel like a normal kid, he goes to prom knowing that the lights will make him have a seizure. Starring Peace Joza and Alyssa Jirrels, of Disney Channel fame.
Made by epileptic filmmaker Miles Levin, this film serves to be one of the first authentic, empathetic depictions of epilepsy in cinema: an effort to represent an invisible demographic of 1 in 26 people who suffer from brutal stigma every day.
Director Biography – 
Miles Levin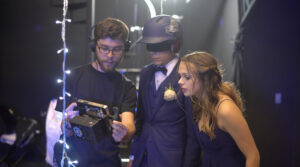 Miles Levin is a working filmmaker with epilepsy who hails from Santa Rosa, CA. His work has been seen in festivals all over the world including Sedona Film Festival and D.C. Shorts. His 9th and most recent film, 'Under the Lights' is a very personal expression of his experience having epilepsy. Despite affecting 3.5 million in the U.S. alone, epilepsy is almost never seen on screen, and faces a brutal stigma. Peers have been ejected from friend groups and even families just for having the condition. Miles believes that in an age of new voices in film, 'Under the Lights' stands to begin a conversation about epilepsy in cinema, and bring to light a very large but invisible voice in our community. Miles is currently in development on a feature version of 'Under the Lights'.
Miles believes UNDER THE LIGHTS can open up a dialogue about epilepsy with general audiences while giving much need representation to our previously invisible demographic. With a selection from your film festival, Miles believes I will finally have the finest platform to just that.
Project Links