Yupkӧyvi is the Hopi name for Chaco Canyon.
"Currently, the greater Chacoan landscape is under threat from aggressive oil and gas development. Existing laws and management policies are good at protecting monumental architecture such as great houses, but it is more difficult to locate, interpret, and manage features such as roads, soundscapes, and night skies. Our ability to understand Chaco depends upon the protection of this landscape in a way that honors both what is known and what we still must learn." – Drs. Ruth Van Dyke & Carolyn Heitman
Since 2017, we have interviewed various Indigenous Peoples, including the Hopi featured in this documentary, where they reveal details of their ancient culture rarely told to the general public. In this film, Yupkӧyvi-The Place Beyond the Horizon, the Hopi explain how the impact of encroaching oil and gas production is a clear and present threat not only to Chaco Canyon and the greater Chaco landscape but to the Hopi with their ancient spiritual and ancestral ties to this landscape. They also disclose how the entire planet has been impacted by greed and destruction of this ancient land.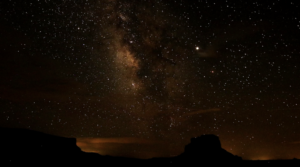 Normally indigenous Peoples are very reserved about speaking outside of their culture concerning oral history, ceremonies, beliefs and prophesies. But because of the serious threats of encroaching fracking, and oil and gas exploration upon their ancient Chaco Canyon homeland, (Yupkӧyvi), the Hopi felt it their duty to explain exactly what is at stake not only Chaco Canyon proper but the entire greater Chaco landscape.
Director Biography – 
Larry Ruiz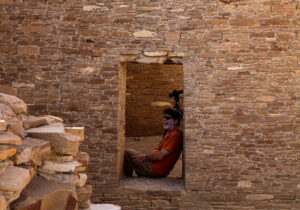 Larry Ruiz is a non-profit filmmaker living in Durango, Colorado creating unique, timely and engaging films and documentaries to show how important the ancient civilizations and their modern descendants of the southwestern United States are, and that it is still possible to protect what little of this early culture is left.
In the 1990's, during production of the popular Chaco Canyon documentary, The Mystery of Chaco Canyon, directed and produced by Anna Sofaer and narrated by Robert Redford, Ruiz volunteered as location scout, assistant camera, grip, surveyor, and other various duties over the seven year production of this film. Larry still works closely with Anna Sofaer, helping to film and document some of her ongoing Chaco research work.
In 2012, Larry Ruiz directed and produced his debut film, Death of Place. The core message of the film was the importance of individual responsibility and stewardship of archaeologically significant sites.
Waking the Mammoth premiered in 2014 and was Larry Ruiz's second directorial work. Filming the winter solstice burning of a wooden mammoth built in Bluff, Utah by local artist Joe Pachak and other community members, this ritual was woven into the intricate fabric of significant archaeological discoveries in the region dating back as far as 13,000 years.
In 2017, Ruiz directed, co-produced, and edited 10 documentaries for the preservation series, "The Greater Chaco Landscape", working closely with Drs. Steve Lekson, Ruth Van Dyke, Carrie Heitman, Dine, (Navajo), and Acoma Pueblo Chaco scholars, and the National Park Service.
In 2018, Ruiz co-produced and edited a short film with Solstice Project founder Anna Sofaer titled, "A Sacred Line-scape Unites the Four Corners".
In March of 2019, Larry worked with the National Geographic Network in Chaco Canyon on the world premiere of a television show titled, "Chasing the Solstice". Ruiz's award-winning time-lapse was featured on the Chaco Canyon segment of that program supporting Anna Sofaer's interview and discoveries.
In August of 2019, Ruiz was again asked to direct, co-produce, and edit the second part of the "Greater Chaco Landscape-Indigenous Perspectives" featuring Hopi and Zuni interviews in Chaco Canyon. This project is a work in progress.
Larry Ruiz has recently completed the feature-length Navajo weaving film titled, "Spider Woman's Web", 2019.
Additionally, he is working on a series of vignettes titled "The Languages of the Landscape". Each film addresses a specific regional archaeological preservation issue across the Four Corners area of the Southwestern United States.