418 MONTEZUMA AVE, SANTA FE NM 87501
Showtime: Feb 17th, 2:30 PM at the Jean Cocteau Cinema
418 MONTEZUMA AVE, SANTA FE NM 87501
Click here to purchase tickets.
Nobody Knows (Dir. Nolan Goff) (20 mins.)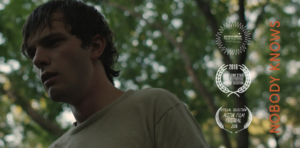 In the wake of his brother's death, a quiet high schooler navigates his small Texas town, while knowing he is responsible for the accident.
Shown with:
Caretakers (Dir. George Loomis) (88 mins.)
After an attack in Syria, U.S. Ambassador Chris Williams (CHRISTOPHER COUSINS) needs a new heart. When medical student Jones (GEORGE LOOMIS) meets Chris's wife (NATALIJA NOGULICH) and discovers the family is broken by the embassy attack, he disregards strict policies of his boss (VIVICA A. FOX) – and the Williams' advisor, Carrie (MISSI PYLE) – to hatch a plan to save his patient. World premiere at Cannes Film Festival 2018 and winner Best Feature Film-First Time Director at the Queen Palm International Film Festival.