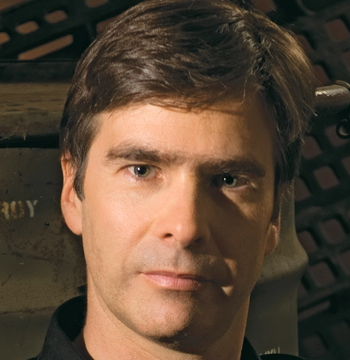 BRUCE MCKENNA
Panelist
Bruce C. McKenna is an award winning screenwriter and producer. He wrote on four of the ten episodes of HBO's Emmy Award-winning mini-series Band of Brothers, for which he garnered a WGA Award, a Christopher Award and was a finalist for the Humanitas Prize for his episode, Bastogne. He created, co-wrote and co-executive produced The Pacific, the Emmy Award-winning Miniseries for HBO, Steven Spielberg and Tom Hanks on the Pacific Theater of the Second World War. In addition to winning a producing Emmy, McKenna was nominated for his second writing Emmy, was again a finalist for the Humanitas Prize, and garnered a Producer's Guild Award, a Critic's Choice Award, as well as the Marine Corp Heritage Foundation Bill Broyles Image Award.
A Phi Beta Kappa graduate of Wesleyan University, McKenna majored in European History, shared the Dutcher History Prize, and was nominated for University Honors, Wesleyan's highest academic award. He lettered seven times in Soccer and Lacrosse. After Wesleyan, McKenna attended Stanford University's PhD program in Russian and Soviet history (focusing on early Twentieth Century Russian Fascism). He left Stanford, however, to become a freelance writer focusing on politics and foreign affairs.
McKenna was among the first Western journalists to write about the nascent post-Soviet, anti-Semitic movement Pamyat, for Arete Magazine. He penned additional articles on Eastern Europe and Pakistan for Arete Magazine as well as The National Review (for which he interviewed Prime Minister Benazir Bhutto). His first book, The Pena Files — the true story of the world's highest-paid private investigator, Octavio Pena, the only man to ever successfully infiltrate both the Mafia and the IRS — was published by Harper Collins.
McKenna has sold several original pitches and has written numerous studio film assignments, including an adaptation of Once Upon A Distant War for Bruckheimer Films and The Perfect Mile for Kennedy/Marshall and Universal. Among others, he has worked with Ridley Scott, David Fincher, Frank Marshall, Frank Darabont, Wolfgang Peterson, Steven Spielberg and Tom Hanks. He is currently developing a miniseries on Peter The Great for Bold Television, adapting Hampton Sides' Kit Carson epic Blood and Thunder for Ridley Scott, and is adapting All Things Possible, the Kurt Warner story, for Fox Studios. Last fall he served as a Gould Center Visiting Fellow at Claremont McKenna College where he taught a seminar on writing adaptations for the screen.
He lives in Santa Fe, New Mexico with his wife Maureen and their three children