Diversity Panelist, Odessa film Producer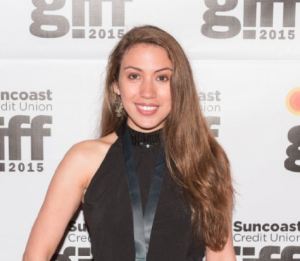 Grace Santos is currently the Director of Business Affairs for Our Alchemy LLC, the largest independent distribution company of film and television content in North America.  Her primary duty at the company is working for the Bentonville Film Festival, a festival founded by Academy award winner Geena Davis and that provides a platform to increase the commercial value of content produced by women and minorities.  Prior to that, Grace was the Director of Business and Legal Affairs at RLJ Entertainment, an independent entertainment distribution company, and closed deals such as "The Rewrite" (starring Hugh Grant), "The Cobbler" (starring Adam Sandler), "Bone Tomahawk" (starring Kurt Russell), to name a few.
She is also a producer known for "Silk" (a drama starring Oscar-nominee and Emmy-winner Shohreh Aghdashloo and directed by The Shield's Catherine Dent), "Spun" (a comedy awarded an honorable mention by the Producers Guild of America), "Bree DOES Comedy" (a comedy series starring Bree Olson), "Ripe N Bloody" and longer version "A Tricky Treat" (a segment for the Soska Twins' annual Blood Drive PSA, directed by Patricia Chica), and "Election Night" (a comedy by AFI Directing Workshop for Women and ABC-Disney Directing Participant Tessa Blake and starring Frasier's Peri Gilpin).
Some people call Grace a social activist and she has been awarded the Public Interest Award, Pro Bono Award, Organizational Officer of the Year, among other awards, for her work in organizing voter registration drives, Election Protection volunteer work, environmental clean-up groups, and strong stance for welfare programs.  Prior to moving to Los Angeles, Grace founded the Asian Pacific American Scene Inc (APASI Productions), the first nonprofit production company in Florida whose purpose is to promote American actors, artists, filmmakers, and theatre-makers that are of Asian descent and to bring awareness about Asian-American social issues.
Grace has also worked as a creative Development Intern at Silver Pictures at Warner Brothers and a Teaching Assistant at the UCLA School of Theater, Film, and Television's Professional Program in Producing and Program in Television Writing – the Showrunner Series.
Grace is also currently in development of two series: (1) "Odessa" (the short film / series pitch was written by Doug Johnson and directed by Sean Michael Turrell and had a market screening at the 2015 Cannes Film Festival) and (2) "The Reserve" by Sean Michael Turrell and Andrew Kirkwood, co-produced with Movie Package Company LLC (Powder Blue, And So It Goes) and Anonymous Content (HBO's True Detective).